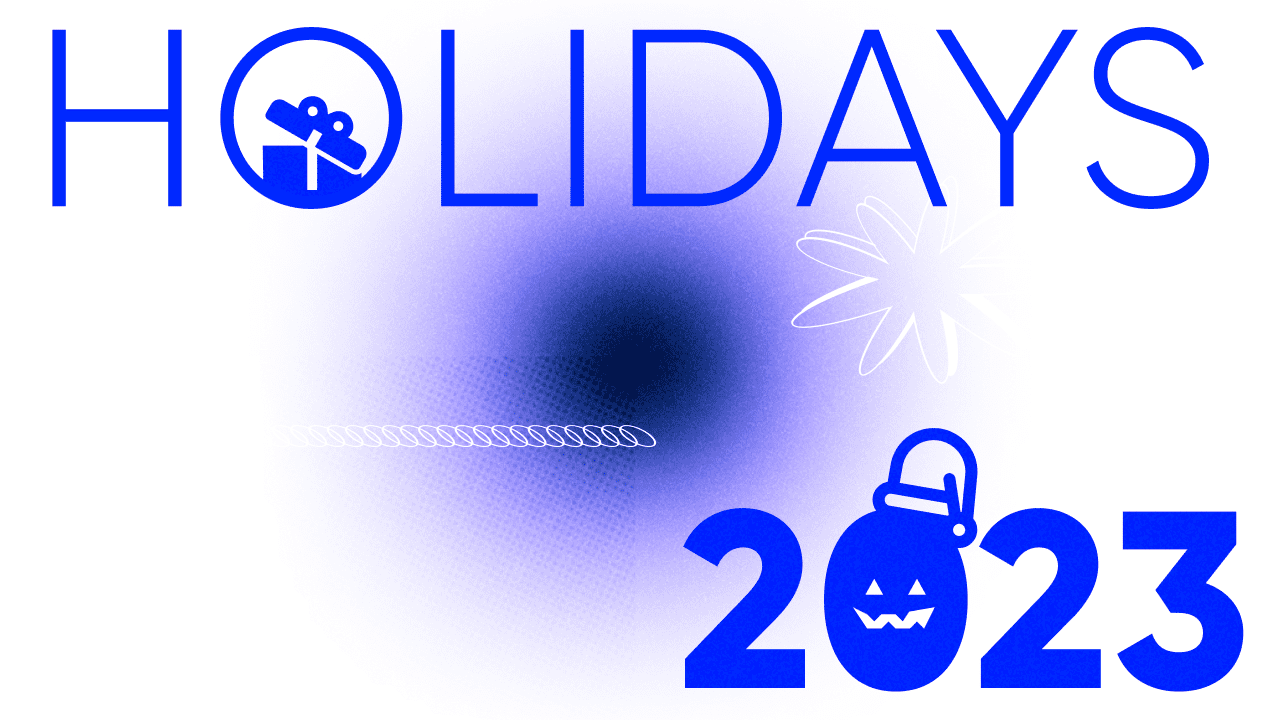 Marketing for holiday 2023: how to improve your ad strategy
OCTOBER 20, 2023

Author: Lizaveta Zhuk
The holidays are coming. For brands, it means it's time to assess the effectiveness of your holiday marketing strategy or start exploring new holiday marketing ideas. Whether you already have a strategy in place or not, it's essential to keep a close eye on your holiday costumes' behavior trends.
But don't worry. We are to guide you through this busy period and make sure you come out the other side stronger. In this article, we'll discuss this year's holiday trends and how you can leverage these trends to boost your profits. Let's go!
This Year, Holiday Shoppers Are Price-Sensitive
Given the current economic challenges and increasing cost of living, it's no surprise that consumers are becoming more price-conscious. This trend extends to both essential and non-essential purchases, including holiday gifts. According to research, over half of consumers expect inflation or a potential economic slowdown to affect their 2023 holiday celebrations and shopping decisions. To cope with that while preserving the holiday spirit, users will follow various behavior strategies when selecting and purchasing gifts for their loved ones.
For example, about two-thirds of shoppers will be looking for discounted presents, and approximately half will aim to buy fewer items overall.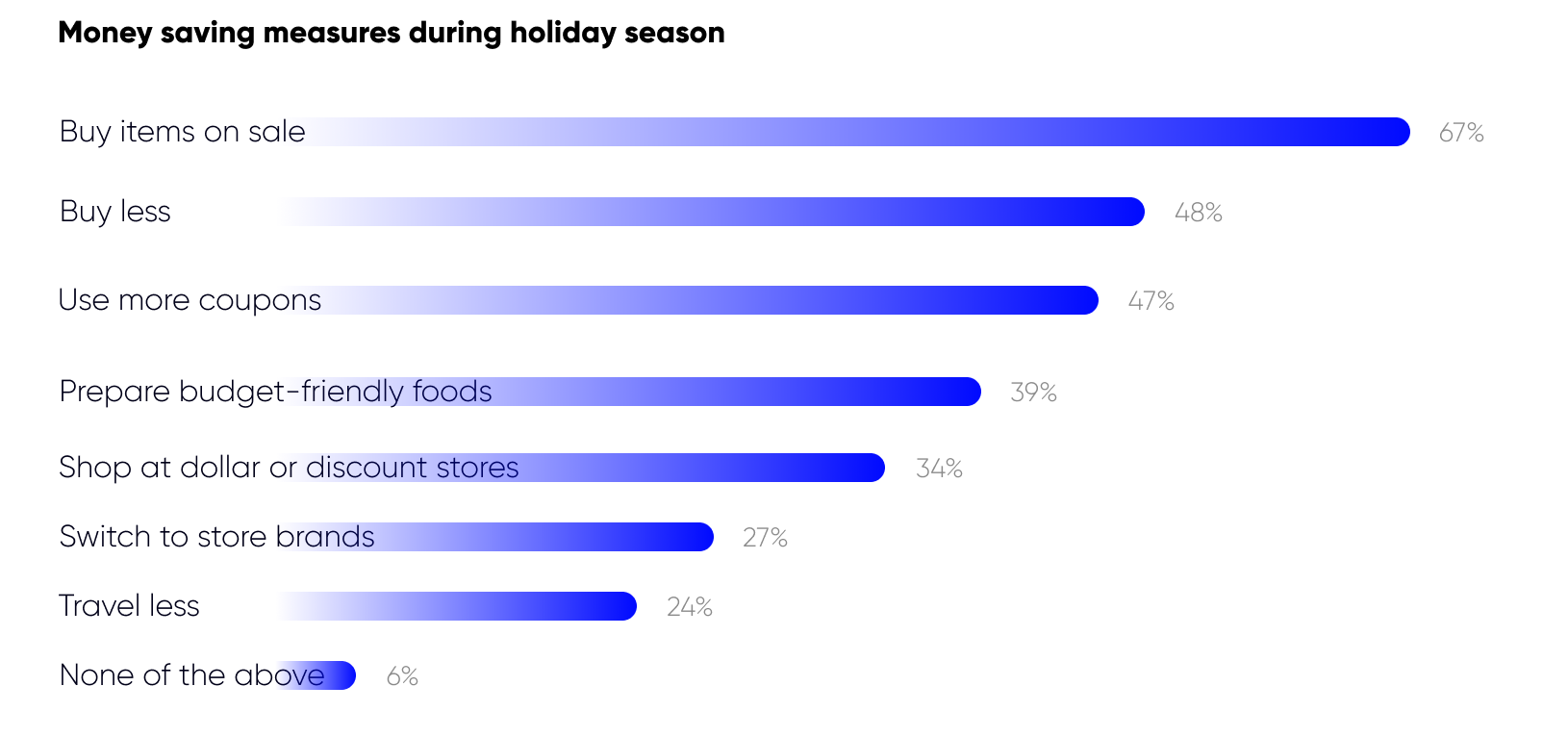 Source: Numerator
How to lean into this trend
During this holiday season, deals and discounts can help influence users' decisions at any stage of the customer journey. Additionally, offering free and expedited delivery, along with hassle-free return services, can substantially enhance customers' intent and motivate them to complete their purchases.

Source: think with google
This trend reveals that users still prioritize value over the money they spend on products. Therefore, it's smart to emphasize added value in your ad creatives. For example, you may tell users about free delivery services on banners or videos or even more — use an interactive scratch-banner from NT Technology to encourage users to interact with the ad and provide them a discount under the hidden field. If you're interested in understanding the significance of interactive advertising and the advantages it brings to brands, you may read this article.
Omnichannel buying and researching
Time is money. With the holidays approaching, shoppers may feel a sense of urgency. Whether customers have been delayed in their gift selection due to unexpected events or are simply last-minute shoppers, they'll be focused on purchasing presents as quickly as possible. One effective way to address this and expedite gift selection is to combine both online and offline sources at the same time. It appears that this strategy is still a popular choice this year.

Source: think with google
How to lean into this trend
At this stage, connecting with users both online and offline is crucial. Digital OOH advertising helps brands stay in contact with their target audience wherever they are offline — commuting to work, waiting for an elevator, taking a coffee in a cafe, etc. Furthermore, thanks to advancements in adtech, brands can continue communicating with users who saw their DOOH ads offline in other digital channels through retargeting. For instance, let's imagine that you own a beauty store. You may display an advertisement for a gift beauty box on a big screen at a bus stop. Once sufficient audience data has been gathered, you can present retargeted ad content to those who previously viewed the ad at the bus stop on social media. This approach allows you to bridge the gap between online and offline channels, assisting users in making informed gift choices.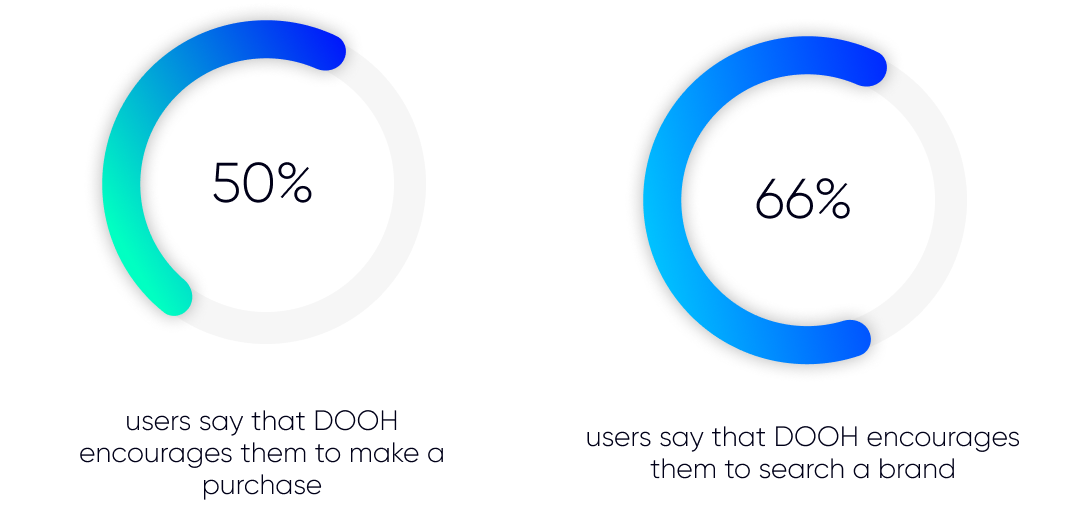 Source: xaxis
Another way to connect online and offline is by employing mobile device advertising or in-app advertising. It's an excellent opportunity to capture users' attention when they are researching products being in-store online. In this case, it's essential to employ targeted approaches, such as geo or location targeting, to effectively narrow your audience.
Users prefer to shop with mobile phones
Our world has grown increasingly flexible. We can learn whatever we desire, find anything we seek, and buy almost anything we want from wherever we please. One of the ways to get this flexibility is to use mobile phones. So, unsurprisingly, 49.6% of users primarily use their smartphones for online shopping. 
How to lean into this trend
With nearly half of customers browsing and shopping online with smartphones, it's time to keep mobile audiences in mind. To catch the attention of users on their smartphones, you may use in-app or simple mobile ads. If you prefer not to concentrate your media efforts solely on mobile users, you can utilize retargeting with device-based targeting to maintain communication with users who have previously visited your website. Or you can implement cross-device targeting to connect with users across various devices.
Whether you are focusing on a website or an app, ensure your website or app provides a good experience that allows mobile users to easily purchase and browse. You may launch a highly efficient ad campaign and spend a lot of money to grab mobile users' attention, but if your site or app isn't optimized for mobile audiences, you risk wasting your investment. 
Buyers look for inspiration on social networks
It should come as no surprise that we are currently living in a digital era. The most prominent aspect of this digital life has become social media. Users tend to spend more and more time scrolling through their social media feeds. Moreover, users use social media to help them decide on the perfect gifts. This year, shoppers are no exception, as social media is a valuable source of inspiration and gift ideas. According to Salesforce research, more than half of users visit a physical store to see or buy products they discovered on their social feeds.
How to lean into this trend
Can you guess what our next recommendation is for your business? Exactly! If your business isn't active on social media, it's quickly becoming forgotten. Therefore, you should consider suitable ad formats for your business, create holiday ad creatives and copies, and launch your ad campaign on social networks. Social media advertising is expected to generate ten times more holiday visits to online shops than traditional marketing, according to recent research. 
That's why brands should prioritize their presence on social media channels to maximize holiday engagement. For instance, if your target audience includes Gen Z, pay attention to TikTok advertising. This social platform has the greatest influence on the purchase decisions of this generation, with 39% of them most likely to buy a product they learned about on TikTok. To choose social media correctly, it's better to understand where your audience spends more time and include this one in a mediamix. We talked about social media audiences in our article here. 

Source: retail dive
Users start to choose gifts earlier than ever
Consumers worldwide are facing another holiday season hampered by an uncomfortably rising cost of living. With a growing number of users unable to afford splurging on last-minute purchases, they are now proactively researching products, seeking gifts at competitive prices much earlier than in previous years, and pacing their spending throughout the coming months. 

Source: NielsenIQ
How to lean into this trend
Does this trend mean you should start blasting out holiday ads immediately? As many shoppers, particularly GenX and Boomers, plan to begin holiday shopping before November, it may seem so, but no. Hasty and thoughtless ad campaign launches can backfire on your business. It's better to start planning and developing your ad strategy for a highly competitive season now. This way, brands can prepare their Plan A, B, and even C to allocate their ad budgets efficiently as the second half of the year inches closer to the holiday rush. 
Users buy something for themselves during holidays too
Holidays don't necessarily mean that users choose and purchase presents only for their friends, colleagues, and relatives. While many shoppers focus on purchasing gifts for others, they are still fascinated with buying something for themselves.
Furthermore, more users use the post-holiday time to treat themselves to gifts they wanted but didn't get or to make purchases that align with their New Year's resolutions. This ties into the extended duration of holiday sales — people may purchase what they need at a better price thanks to discounts.

How to lean into this trend
It's a good chance to look beyond a familiar pattern of holiday ad campaigns. During this peak period, businesses should prepare ad strategies to grab the attention of their existing customers as well as holiday users. In order to do that, brands may use retargeting or CRM data in ad campaigns to engage with users who are already clients of your company.
However, the most critical aspect is building lasting relationships with customers throughout the year. This way, your brand will be at the forefront of their minds when they are ready to purchase.
How do you kill two birds with one stone? 
We understand that trying to keep up with the fast-paced trends during this busy time may be difficult and time-consuming. We are here to help you manage that with programmatic advertising.
Programmatic technology is changing the landscape of digital advertising. It offers precise targeting based on valuable data and insights into users' behavior, allowing marketers to get stronger advertising results and increase business profits.
Programmatic is the automated process of buying advertising space in real-time with an automated platform. Each time users interact on the internet, such as searching for a particular product, reading articles, seeking customer reviews, adding items to their carts, or scrolling through social media feeds, they leave behind a trail of data regarding their behavior and interests. This data is a goldmine for Machine Learning and Artificial Intelligence algorithms, which are at the core of programmatic technology. These algorithms use this data to determine customers' needs, predict their future behavior, and display advertisements to high-intent users at the right time and place that are relevant to their needs and preferences. As a result, a brand's advertisements resonate more strongly with the target audience, resulting in an increase in conversions.
In addition to precise targeting, programmatic supports a wide range of ad formats and can reach the target audience across all digital channels, including display, native, video, social, search, CTV, and even offline with DOOH. This allows brands to engage with users year-round across their entire customer journey, or solve quick and urgent tasks, such as capturing users' attention during the holiday season.
NT Technology has been developing its own programmatic platform for more than ten years, gaining extensive expertise in programmatic technology and advertising campaigns. We're here to offer our assistance. We can power your success with unique data for precise targeting, a wide range of advertising formats, cross-device synchronization, and fraud detection solutions. With our years of experience and advertising technologies driven by deep learning algorithms, we help advertisers achieve their goals across all channels to attract the right audience with the right message at the right time.
Experience for yourself how it can elevate your ad campaign to the next level with a real example—a case study of one of our clients.
How to increase orders for jewelry brands by 3.2 times during holidays
Our client, an online jewelry store offering a wide range of products, including rings, necklaces, earrings, and children's jewelry, approached NT Technology to create a customer acquisition and performance campaign, with programmatic advertising as the primary tool of success during the holiday season. The client has an offline chain of stores as well as a website where users may choose jewelry they like. Our primary objective was to attract new users and boost online sales.
We kept a holistic strategy focusing on creating the synergy between ad channels in the media mix. With an eye on the main part of the target audience, our team launched social ads, including stories, ads, and promo posts on Facebook and Instagram, and video ads on TikTok. Additionally, we used banners and native ads to maintain users' interest while they are surfing the internet. It was important to identify which ad creatives yielded the best results, as a lower click-through rate (CTR) could increase the cost per order. That's why our team conducted an A/B-test to figure out the best-performing ad creative and ad copies and focused on these to drive the efficiency of the ad campaign more.
As the main ad formats for conversions, we relied on search ads. Also, we set up dynamic retargeting to motivate users who had left the client's website without completing their orders to finalize their purchases. These users encountered smart banners displaying items they had previously shown interest in.
During the campaign, AI algorithms analyzed a large amount of data to accurately target and show ads to users who indicated a high likelihood of conversion. Additionally, we set up look-alike targeting, which expanded our reach to successfully show ads to high-intent users similar to the client's target audience.
Through this high-impact ad campaign, we successfully met the client's objectives and increase online orders in 3.2 times. By removing segments with low conversions, working on performance, and both manual and Bid Factors optimization, the campaign finished with high efficiency and saw a significant return on investment. We achieved 301.3% ROI in that ad campaign.
Bottom line
It may seem difficult to catch users' attention during holidays, but with a smart ad strategy that considers users' holiday behavior patterns, you can succeed this year. NT Technology is here to assist you with your advertising campaigns, helping boost your revenue. Contact us today to achieve your marketing goal tomorrow. 
CONTACT US
Ready to make your next campaign a success?
We are!