Customer journey analytics & customer journey map: what brands should know about them
JUNE 8, 2022

Author: Lizaveta Zhuk
Nowadays brands understand they need to be customer-focused in their communication with the audience, because consumers may stop interacting after encountering an obstacle. The issue could be anything — from a bad product description to a long wait loading necessary pages.
Brands could avoid 67% of customer churn, if they solve a user's problem during their first interaction. However, issues can appear at any point of the user's journey. That's why brands should view the entire customer journey as a whole point to know where users encounter an obstacle and what keeps them from moving forward.
One way companies can be aware of the entire users' journey and remove the encountered obstacles in real time is via customer journey analytics.
What does customer journey analytics mean?
Customer Journey Analytics (CJA) is the process of tracking and analyzing the way users interact with a brand through different channels. It provides a comprehensive view of every user's interactions across all customer touchpoints that helps get insight into a consumers' movement, time spent at each touchpoint, and helps to identify "pain" from a user's point of view.
In the end, it helps brands improve customer experiences, across all channels, by providing them with real time data needed to remove obstacles.
Why is CJA important for achieving brand goals?
Today's users interact with brands in the digital world across many devices, channels, and platforms. According to Internet Retailing, users interact with brands across a mix of 20 channels on average. All these "points" consist of a lot of data about consumer behavior, interests, actions, etc. This information helps marketers understand who their target audiences are and what they want. However, brands often notice blindspots within a journey because they can't combine data from every touchpoint.
Customer journey analytics software is emerging data collected from different channels that gather detailed information about users. With that information brands can:
Improve customer experiences;
Create audience segments for ad campaigns;
Optimize strategies based on how the purchase decision is made;
Develop high relevance ad creatives and call to action (learn more about ad creatives here);
Improve consumers loyalty;
Drive revenue growth;
Increase customer lifetime.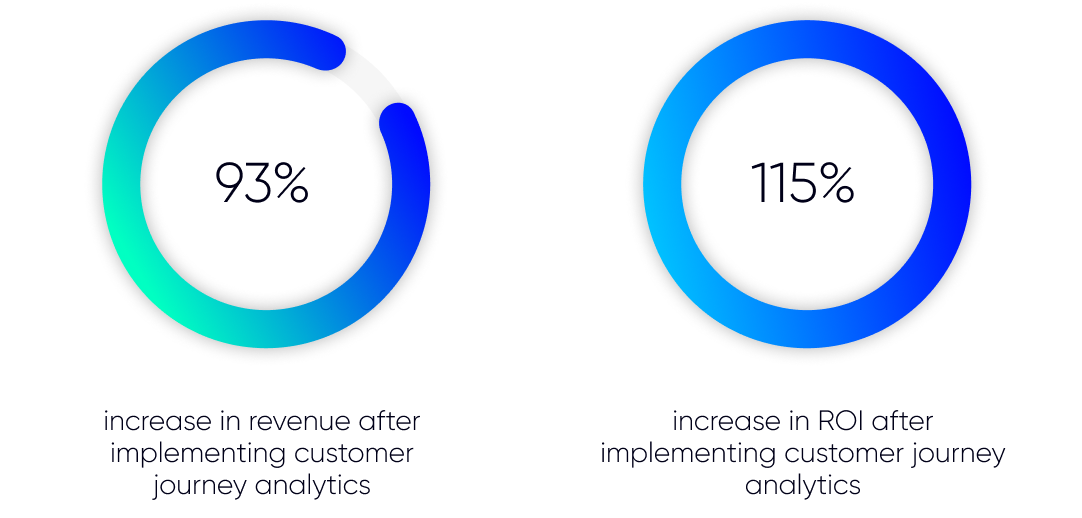 Source: McKinsey
With CJA, brands no longer need to solely rely on consumer feedback (especially considering that only 9% of users take the time to answer long surveys thoughtfully). Using CJA tools, brands get a window into users behavior which provides powerful insights that they can use to make informed decisions in real time and avoid churn. Moreover, brands increase conversions and digital activity among target audience by implementing CJA.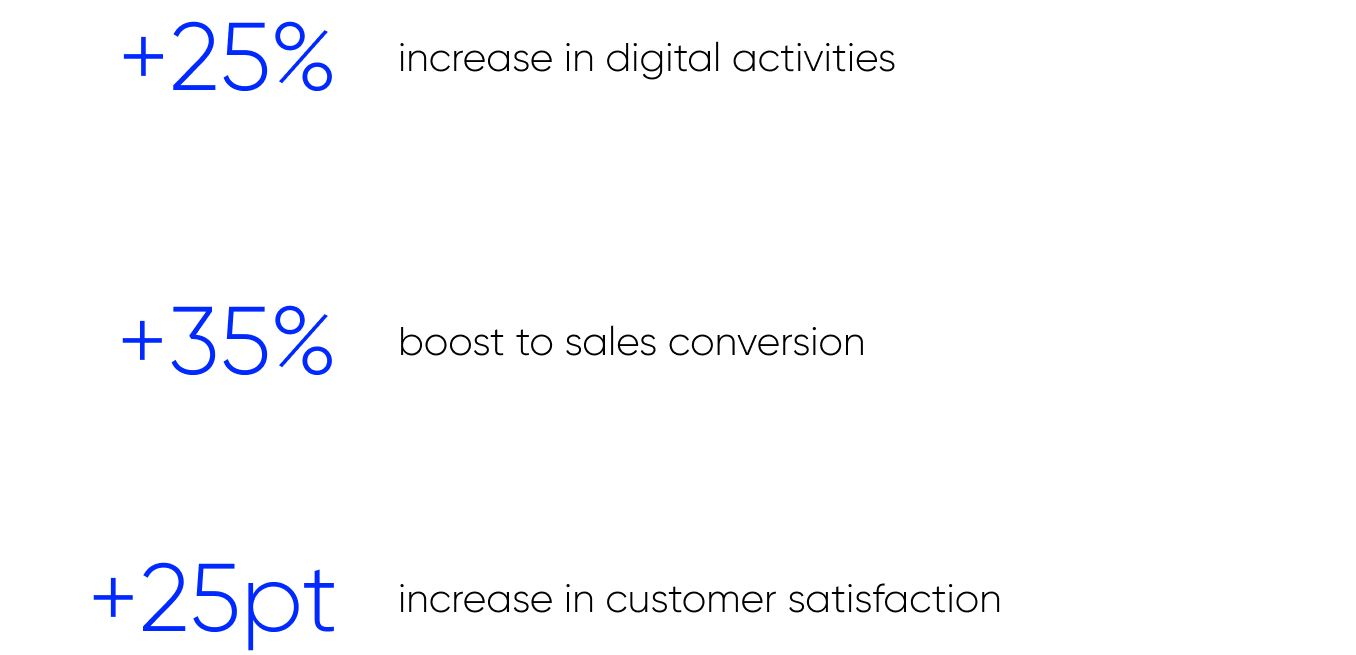 Source: McKinsey
How does it work?
Customer journey analytics include:
Collecting data. Tools gather information through brand communication channels: social networks, websites, marketplace, etc. The information tells marketers which channels users visit most often, the content that is most liked and so on.
Data analysis. When information is combined, tools begin analyzing it. AI makes the process of spotting trends, patterns and errors simpler. So brands get an opportunity to learn target audiences' behavior patterns, blindpoints and obstacles in the journey.
Visualization. CJA often uses a journey map for visualization of the process potential clients go through.
The next step is putting insights into practice. As a result of CJA, marketers get prompts on actions they should take to optimize strategy, improve customer experience and more.
What is a customer journey map?
Clear visualization is a key factor in adapting to new practice, and it's easy to understand. That's why customer journey maps are used in the process of analyzing user journeys.
Thus, a customer journey map is a graph, flow chart, diagram, or other visual that represents each step of users which they take during their interaction with a brand — from interest to conversion. CJM allows brands to see products and services through a consumer's point of view and identify user pain points.
It helps a marketer understand how a target user interacts with a brand, what he feels and needs to achieve his goal. As a result, brands can improve communication with target audience, and furthermore:
remove inefficient channels and touchpoints;
learn more about obstacles during users' journeys;
minimize negative customer experiences and boost conversions;
optimize marketing strategy.

Source: Salesforce
When brands combine both CJA and CJM, they are equipped with a powerful tool which gives a deeper understanding of the target audience and their journey, an opportunity to predict future users' behavior, and communicate with their audience in real time.
Benefits of customer journey analytics
From better understanding brands' target audiences to a better ROI for ad campaigns, CJA gives a lot of benefits. There are several advantages:
Avoid customer churn. Based on McKinsey research, brands are 33% more likely to predict customer churn and reduce that risk as a result of implementing customer journey analytics.
Become more customer-centric. Brands often have an "ideal customer journey" in mind, but a real journey is much more complicated. CJA gives a comprehensive view on that.
Work in real time. CJA tools gather data in real time to give opportunities for brands to deliver relevant messages to users and make informed decisions.
Resolve any issues as they happen. With real time data, brands can minimize negative user experience in real time.
Improve customer retention. CJA can predict users behavior and preferences, so based on this information brands can optimize their next step in communication with their audience to retain them.
In conclusion
Customer journey analytics and customer journey maps help brands understand their target audience on a new level — including obstacles and opportunities for deeper interaction. Delivered through clear visualization, this information helps make informed decisions, increase revenue and customer loyalty.
CONTACT US
Ready to make your next campaign a success?
We are!